This high-quality zirconia material can be used for all types of indication from the primary elements of telescopic crowns to 14-unit bridges and customised implant abutments.
This material differs from conventional zirconia in that it is especially homogeneous. This is achieved by means of a special manufacturing process and results in an excellent fit, even with very large restorations.
Also, Zenotec Zr Bridge features a reduced degree of translucency compared to the Zenostar Zr Translucent material.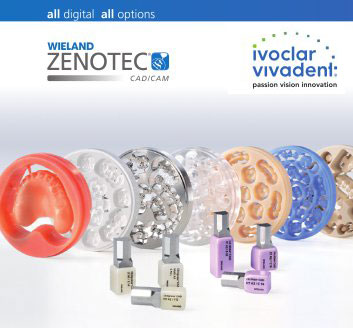 Major advantages are as below:
All-ceramic ZrO2 framework material to meet the highest aesthetic expectations covering a wide range of indications
Technical ceramic with a very high strength
Offers the especially pleasing aesthetics of all-ceramic restorations
Best fit, even for large-span restorations
Fully biocompatible
Very resistant to ageing
Homogeneous, very fine grain structure
For all indications from single crowns to 14-unit bridges
Can be used in almost all intra-oral situations
Good milling properties
The lower translucence of these materials also makes them suitable for metallic post and core superstructures